Canyoning in Cebu – Jump off Waterfalls in The Philippines
Canyoning in Cebu – Jump off Waterfalls in The Philippines
Planning a trip to The Philippines? Are you in for a bit of adventure and a lot of amazing nature sceneries? On Cebu island is a hidden gem and we're going to tell you where it is. Sorry mom. ?
Cebu is an island known for its beaches, great diving sites and numerous waterfalls. But near Badian, they created the starting point of which is now one of the Cebu tourist spots for downstream canyoneering in Cebu, Philippines.
Save
Canyoneering Cebu, what is it?
Canyoneering is traveling downstream in canyons, and in this case down to the Kawasan Falls. Walking is not the only thing you will do. Climbing, jumping, hiking and of course swimming are also part of Canyoneering.
This 4-5 hour canyoneering experience in Cebu is once in a lifetime. That crazy blue water, the scenery and jumping off waterfalls is awesome. But it's also a great way to get to know the lovely Philippine people. They are visiting these waterfalls to.
Save
The best Canyoneering companies on Cebu, Philippines?
There are several companies offering the canyoneering experience. Island Trek Tours is one of the best and cheapest. They know really good how to handle each person, whether if you are a boy or a girl.
Kawasan Canyoneering is another popular company you can go canyoning with.
Tip: Book this activity at a company who offers free transfer from your hotel to Badian and back. It simply saves you quite a lot of money.
Save
Where to stay while Canyoneering?
We got you a $15 discount at Booking.com if you book via this link, you're welcome! ?
These are your options:
Oslob
Do you already have Whale shark swimming on your bucket list? Then Oslob is a nice place to stay. From there on it's about an hour drive with a taxi to Badian. And 15 minutes to the Whale sharks. Tip: Germaroze Guesthouse
Moalboal
Moalboal is very close to Badian, but keep in mind that this cheaper option can be fully booked due the lack of accommodations. Tip: Hotel Sisters Inn
Cebu city
Cebu city is quite far away from Badian (around a 3-hour drive) but Island trek tours offers a free pick-up and drop-off from here. Tip: Bugoy Bikers Bed & Breakfast
Save
How do you get to Badian?
If you're staying in Cebu City and a pickup from the company is not included, then take the Ceres Bus. Their yellow buses will take you to almost every point on Cebu Island.
Take the plane from Manila to Cebu.
Find cheap flight tickets to Manila
Easily find the cheapest flights tickets to here!
The bus to Badian
Go to the Cebu South Terminal
Take Ceres Bus (yellow bus)
Bato via Barili route (tell the driver to drop you at Kawasan Falls)
This will cost you around 120 PhP/pax and take about 3 hours to get there.
Save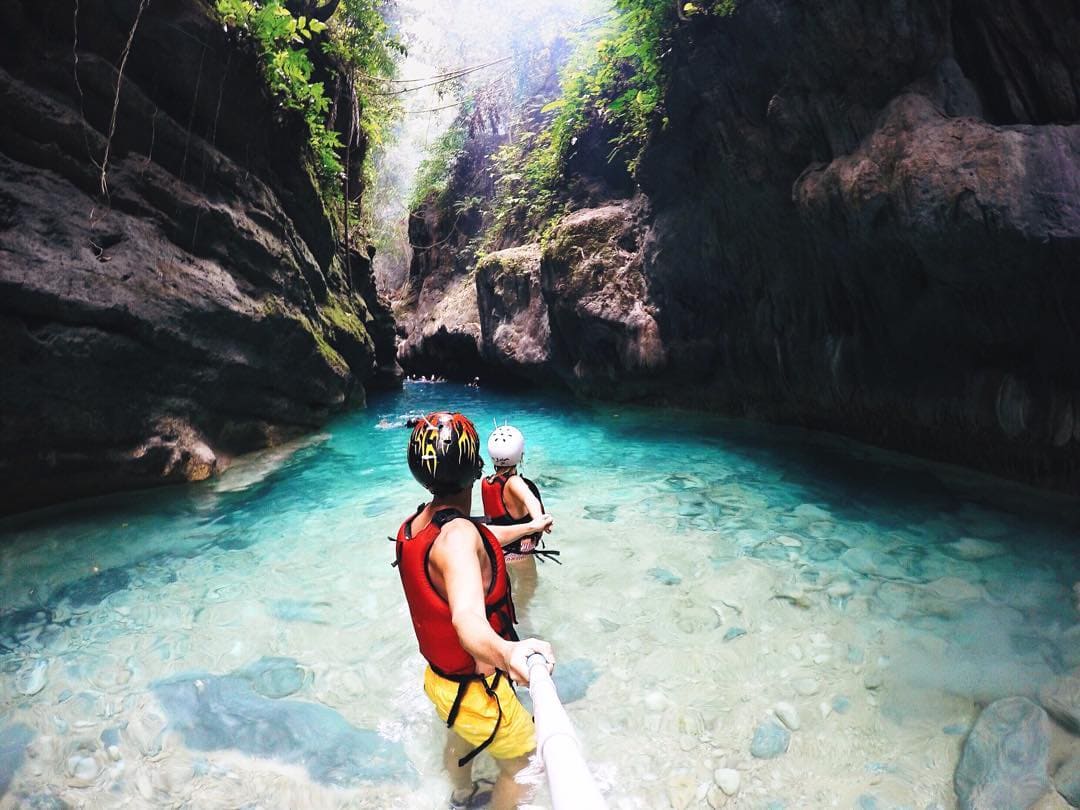 Is Canyoneering safe?
Definitely. You will get a life jacket, helmet and a pair of aqua shoes. Make sure to wear comfortable clothes. There is a minimal of two guides that are guiding you and your group. Those guides know this area extremely well. Listen closely to their instructions, and the only thing you have to be scared about is your condition. ?
Oh, if you like extreme: Try to endear the guides for a backflip competition from the highest waterfalls (35ft – 10.6 meters).
Save
It's more fun in The Philippines! Check out our Philippines video to see more of Canyoneering!
Do you want to know more? Ask us!
Salt in our Hair
15/02/2017
https://saltinourhair.com/philippines/canyoning-cebu/
24 May 2016
More travel blogs? Follow us on Facebook!