Beautiful Island Hopping in El Nido, Palawan
Beautiful Island Hopping in El Nido, Palawan
El Nido, Palawan belongs to the most stunning places in the world. A must-do is taking an El Nido tour, better known as Island Hopping. The Philippines is a country made up of 7,107 islands. Over 1,700 of those belong to Palawan. The Island hopping tour in El Nido, Palawan will be a real highlight of your trip, we promise!
Save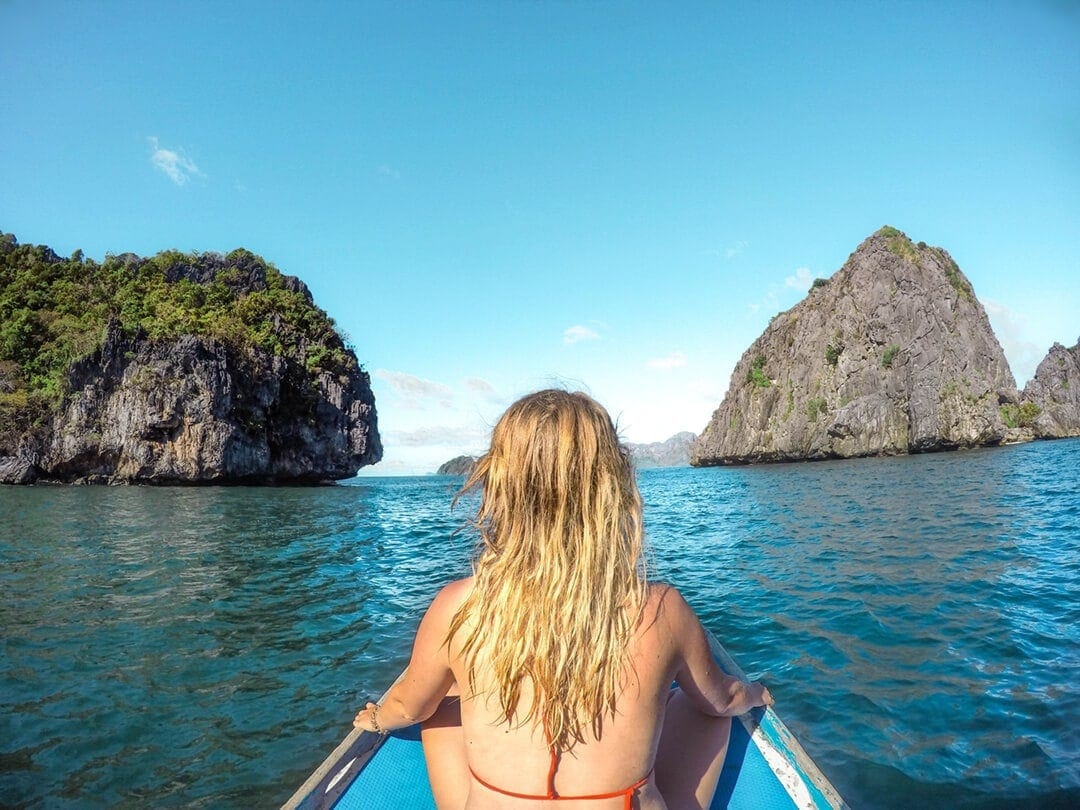 Island Hopping El Nido
There are 3 major boat tours, simply named tour package A, B, and C. Every Island hopping tour starts in El Nido and brings you to those little paradise beaches. The tours will include a great lunch, water, snorkel, and mask. Tour A and Tour C are by far the most popular. The tour will usually take from 9 am to 4 pm but in Asia, time schedules don't really exist.
Check out all of our tips about The Philippines.
Save
El Nido Tour Package A
On tour A you will be taken to Small Lagoon, Big Lagoon, Secret Lagoon, Shimizu Island, and 7-Commando Beach. The costs of Tour A are around 1200PhP/Pax. We only did Tour A, because of bad weather conditions the other day.
Save
El Nido Tour B
On tour B you will be taken to Snake Island, Pinagbuyutan Island, Entalula Beach, the Cudugnon Cave and to a Snorkeling Site. The costs for Tour B are around 1300PhP/Pax.
Save
El Nido Tour Package C
On tour C you will be taken to Helicopter Island, Matinloc Shrine, Secret Beach, Star beach and Hidden Beach. You can spot turtles and other great sea life in the Cadlao Lagoon. The costs for Tour C are around 1400PhP/Pax.
After doing these three tours you can cross 9 of the 7,104 islands off your list. ?
Tip: Would you like to do multiple tours but is the time a concern? It's possible to arrange a combo tour.
Save
You can get to El Nido by plane. Flying to Puerto Princesa or directly to El Nido.
Find cheap flight tickets to Manila
Easily find the cheapest flights tickets to here!
Overnight Camping in El Nido, The Philippines
Would you like a unique experience? You can stay overnight at one of that paradise looking beaches. You will set up camp for the night, make a fire, grill some food and enjoy the stars in the sky at El Nido.
See our travel video:
Where to book a tour in El Nido, Palawan
You can book a tour anywhere in El Nido town.
Tip: If you are more like a party person, book your tour (or stay) at Our Melting Pot hostel.
Check out all hotels on El Nido under $50
Save
What to bring while Island Hopping in El Nido?
You should really bring aqua shoes or sandals, at Big Lagoon you have to pass a lot of sharp corals. We still got our scars. ? Of course, don't forget your waterproof camera to capture your incredible island hopping tour.
Save
El Nido weather
The El Nido tours are really dependent on the weather. Check the weather before booking a tour. When the conditions aren't good they won't do the tours. When the weather in El Nido isn't great it will simply not be as beautiful as it can be.
Enjoy Island Hopping in El Nido! Please let us know how you liked the tour. ?
Save
We found Nemo!
Spin Designer Hostel and Our Melting Pot
We got you a $15 discount at Booking.com if you book via this link, you're welcome! ?
Salt in our Hair
30/03/2018
https://saltinourhair.com/philippines/island-hopping-el-nido/