Climb the 1237 steps of the Tiger Cave Temple
Climb the 1237 steps of the Tiger Cave Temple
The Tiger Cave Temple, lying on a 600 meter high cliff, is a great way to sweat out the alcohol or laziness from the last couple of days. Don't get to disappointed when we tell you there aren't any tigers at this temple. But hey, who needs tigers when there are monkeys? ?
Save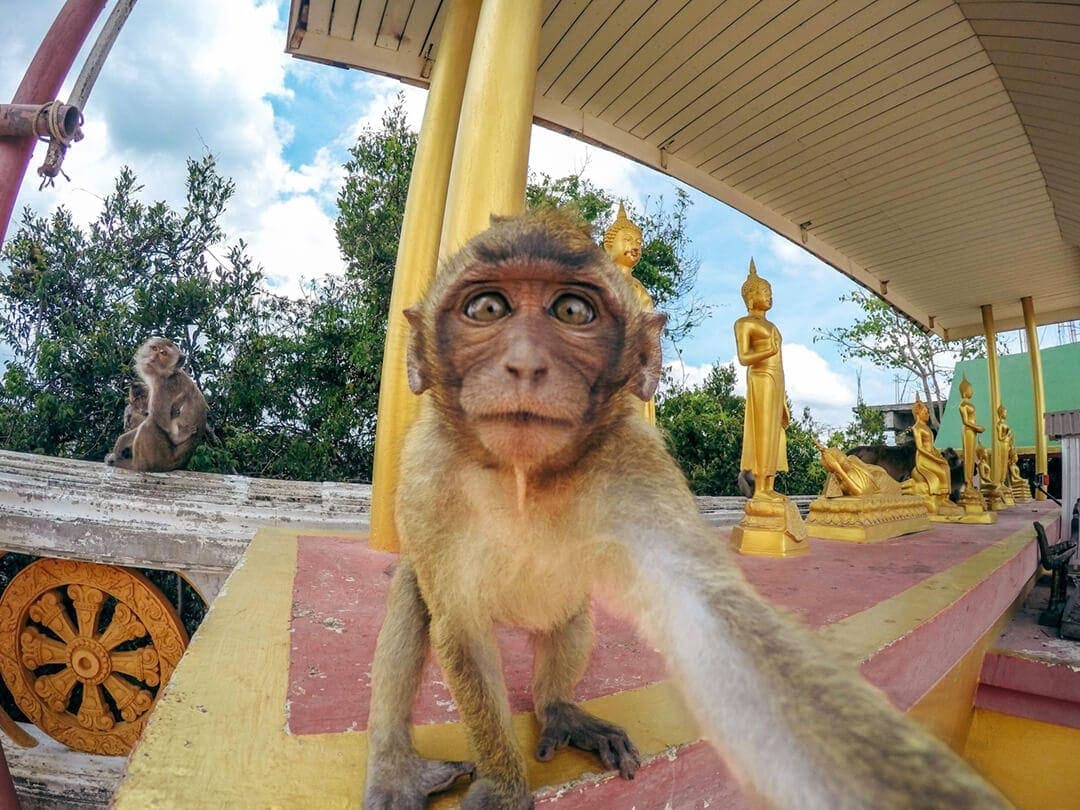 6 Things to know before climbing the Tiger Cave Temple in Krabi, Thailand
1. Stay in Krabi Town or Ao Nang
At least the journey to the foot of the temple is easy. ? You can either stay in Krabi Town or Ao Nang to visit the temple. Hire a motorbike! It will only be a 10 minutes drive from Krabi Town and 30 minutes from Ao Nang.
Save
2. Take enough water with you
Okay maybe that's something you've already thought about, but in this case you'll need it for sure. Be prepared, as each of the 1237 steps will be different. Your bottle will be empty when your reach step 600-something. It's possible to get a refill on the top of the mountain.
3. Take a moment to look around
When you're taking a break, forget you're sweating like a pig ? and enjoy the amazing views.
Save
4. Visit in the early morning or at sunset
Take a visit in the morning to avoid the burning sun and the crowd. The crowd will definitely be there when the sun sets. If you do go there to enjoy the sunset, take a small flashlight with you to get down the stairs safely.
Save
5. Put everything you've got in your backpack
The monkeys you'll meet on the way up will grab everything that's hanging outside your bag. As long as you act cool they are not dangerous at all.
Save
One monkey lifted on Nick's back while the other stole our mosquito repellent and drank it. He's probably still drunk.
6. Did you know you can break a record (or a leg)?
We got a 'little' competition for you. The shortest time in which someone completed all 1237 steps is 10 minutes and 21 seconds on the 19th of April 2016. Can you beat that record?
The climb is tough but the view and experience are totally worth it. Tell us, could you get past the monkeys, unharmed? ? Share your Experience
Hoteltips Krabi
We got you a $15 discount at Booking.com if you book via this link, you're welcome! ?
Salt in our Hair
29/09/2018
https://saltinourhair.com/thailand/tiger-cave-temple/